Maximum Airflow For Your Hungry VR38 Engine
At around 800HP, your stock throttle bodies become a restriction to the intake system.  The negative effects of this bottleneck are exacerbated exponentially as power increases from there on.  By enlarging the diameter of the throttle bodies from the stock 60mm (ID) to a massive 73.5mm (ID), we increased the cross sectional area by 50%.  This provides much improved power gains – especially over the 1000HP mark.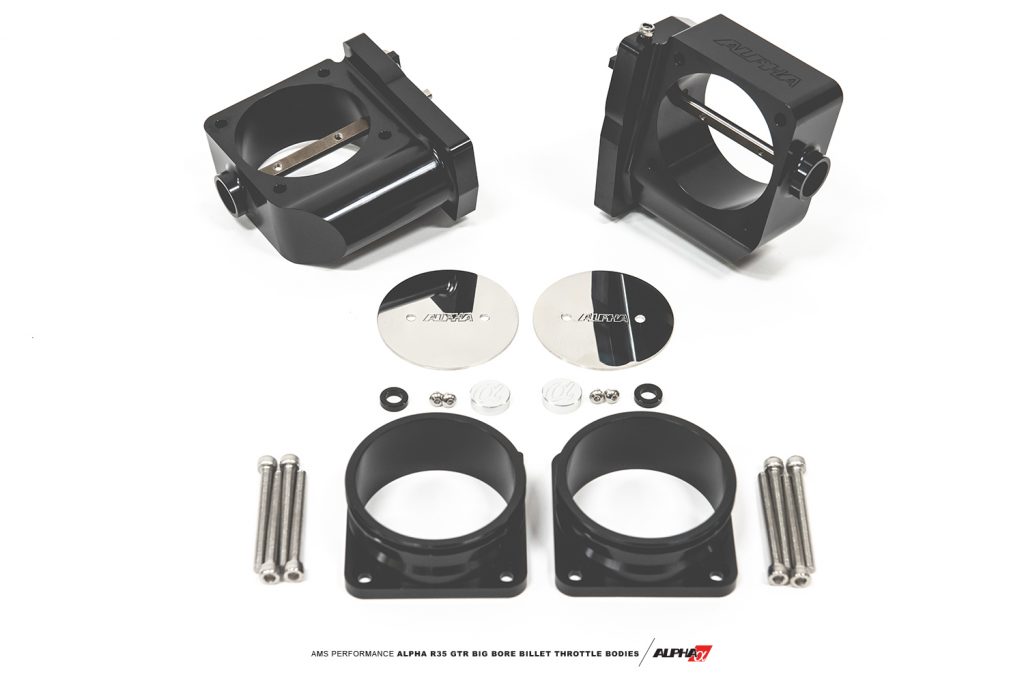 The Largest VR38 Throttle Bodies On The Market

Since we are a true performance automotive manufacturing company, we employ a team of highly qualified engineers – not some idea based on a whim. Our engineering team was given the task of designing the largest, best-performing throttle bodies on the market to feed our Alpha Performance R35 GT-R Carbon Fiber Intake Manifold and they delivered!  Each CNC billet 6061-T6 aluminum housing was specifically designed to provide enough air flow to support up to 2000+HP without issue – implementing enlarged diameter 73.5mm ID bores along with low profile throttle body shafts to minimize restrictions even further.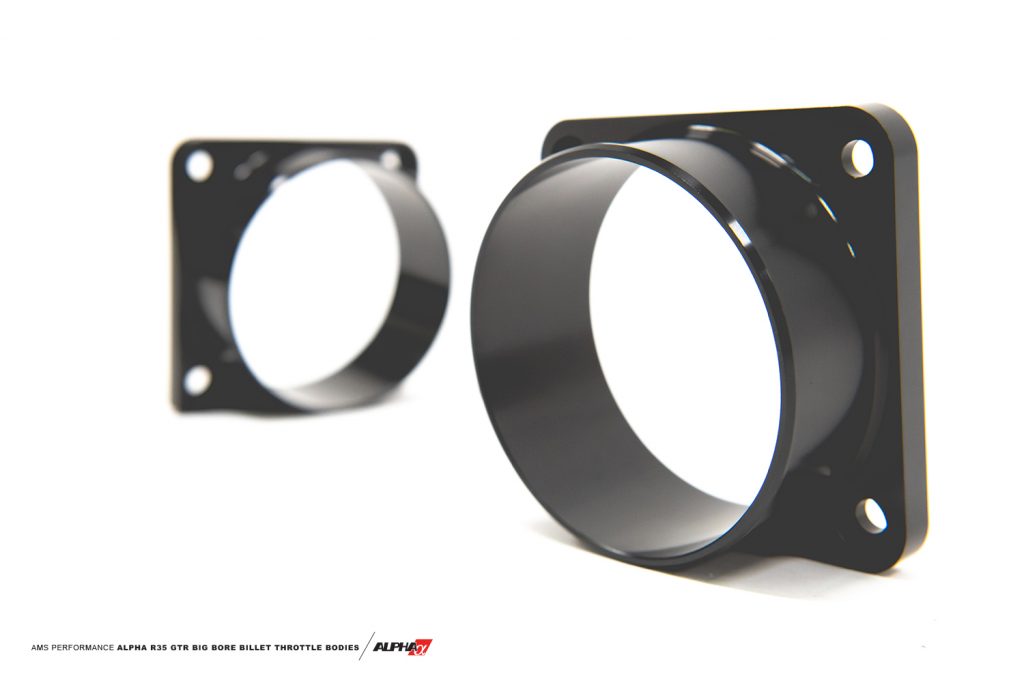 Throttle Body Upgrade Made Easy
Alpha Big Bore Throttle Bodies use your existing Nissan OEM drive-by-wire electronics.  Simply swap out the internal components from your stock throttle bodies and you are ready to go. Learn more by reviewing our comprehensive installation instructions.
Uncork your GT-R's potential, order your Alpha GT-R Big Bore Throttle Bodies Today!
Exclusive Benefits
73.5mm throttle bodies – the largest on the market
22.5% increase in diameter, 50% increase in cross sectional area
Increased mid-range and top end power
Does not adversely affect low-end power
Available with 3″ Vibrant HD Clamp or Standard Flanges
Online Installation Instructions
Applications
2009+ Nissan R35 GT-R
Fits all USDM, JDM and European Models (LHD & RHD)
Product Notes
For proper driveablity these Alpha Big Bore Throttle Bodies are suggested for use with standalone engine management systems only.
Factory throttle body electronics required from existing stock throttle bodies.
Specify 3″ Vibrant HD Clamp Flange or Standard in the Drop Down Menu